You are here
Back to top
After the Dinosaurs Box Set: After the Dinosaurs, Beyond the Dinosaurs, The Day the Dinosaurs Died (I Can Read Level 2) (Paperback)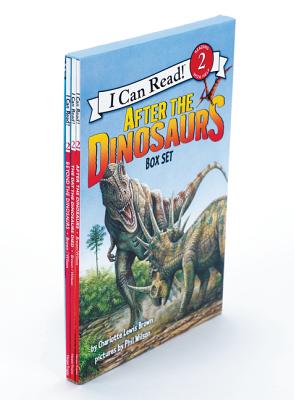 $14.97
Usually Ships in 1-5 Days
Description
---
Beyond dinosaurs, what strange and powerful creatures lived millions of years ago? This three-book collection introduces beginning readers to the amazing creatures that lived alongside the dinosaurs, the giant asteroid that may have killed them, and the incredible mammals that ruled the earth after the dinosaurs died. Written by paleontologist Charlotte Lewis Brown and with exciting, vivid illustrations from Phil Wilson, this Level Two I Can Read slipcase is geared for kids who read on their own but still need a little help.
This slipcase includes the following I Can Read titles:
After the Dinosaurs
Beyond the Dinosaurs
The Day the Dinosaurs Died
Correlates to the Common Core State Standards in English Language Arts
About the Author
---
Paleontologist Charlotte Lewis Brown writes about science for children and adults. Dr. Brown lives in Seattle, Washington.
Artist Phil Wilson specializes in depicting prehistoric life and consults with leading researchers. He lives in Pittsburgh, Pennsylvania.